INTRODUCTION TO BACKGROUND SECTION
This Background Section introduces the Westcountry Rivers Trust and its work, particularly in relation to Cornish rivers and the Cornwall Rivers Project. It includes useful background information and exercises on rivers, wetland wildlife, biodiversity and wildlife habitats.


Picturesque Cornish river, evidence of previous coppicing

This section also links with the issues covered by the sections on Fisheries, Land Management, Waste, and Water Efficiency. Each section is seen in the context of farming, industry, schools and the home.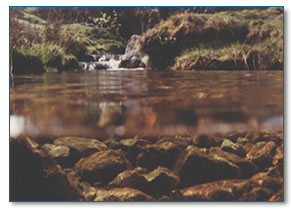 Underwater view of Cornish river