INTRODUCTION TO WATER EFFICIENCY SECTION
The thorny devil or Moloch lives in the Australian desert. It is a large, ferocious-looking lizard although it is actually quite harmless, unless you happen to be an ant! It lives in an environment where there is nothing to drink, but it doesn't die. Every night the hot desert air cools and its tiny load of moisture condenses (G1). It condenses on the dry ground and is lost; it condenses on the dry skin of the Moloch and a thousand minute tubular scales transfer the precious cargo to its mouth – and the Moloch drinks and lives. The Moloch is very water efficient!
Every type of ecosystem (G1) on Earth has its supply of water; it is essential to life. It's easy for us to take water for granted and to forget how much we depend on a pure and plentiful supply in practically every aspect of our lives.
In this country we each use about 130 litres in the home each day. We use even more in our industries and for agriculture, yet we expect the source of our water supply in the South West – the rivers and streams, lakes and reservoirs – to be clean and healthy, fit for our recreation and to please us with their variety and appearance. We should remember though that humans are part of a cycle that involves many living and non-living things, which help maintain our water supply.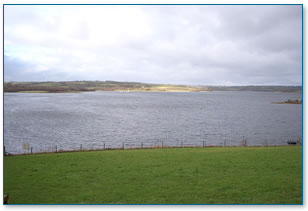 Roadford Reservoir January 2003
South West Water web site - www.southwestwater.co.uk