fowey and lerryn
Ref: B04g
The river Fowey is one of the largest river catchments in south Cornwall, draining an area of approximately 177.5km2 from central and southern Bodmin Moor. Importantly, the catchment includes two strategic reservoirs - Colliford and Siblyback - which supply water to a large part of the county's population.
The river rises on Bodmin Moor at a height of 290m, flowing in a southerly direction for approximately 35km before reaching the tidal limit at Lostwithiel. The estuary continues for a further 9km before reaching the coast at Fowey town. There are several tributaries that enter the Fowey estuary, the largest of which is the river Lerryn.
The geology of the Fowey catchment varies from igneous granite on Bodmin moor, through to Devonian slates in the middle reaches and Straddon grits and Meadford beds in the lower part of the catchment.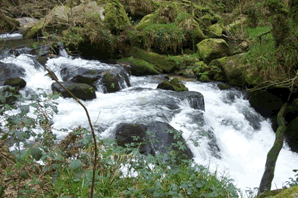 Golitha Falls on the Fowey
Copper and china clay mining have been major activities within the catchment, leading to contamination from metalliferous compounds and sediment. Although contamination levels are no longer considered to cause major water quality problems, disused china clay mines continue to act as a source of suspended solids.
The landscape of the catchment is characterised by heathland, moorland and rough pasture in the upper reaches and broadleaf, coniferous and mixed plantation woodland in the middle and lower sections.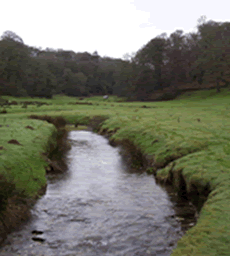 River Lerryn near Lostwithiel
The majority of the catchment is rural, the only notable urban areas being Lostwithiel and Fowey town.
There are 4 SSSIs within the catchment, in addition to the majority of the upper catchment being designated as an Area of Great Scientific Value (AGSV) and also an Area of Great Historical Value (AGHV).