east and west looe
Ref: B04f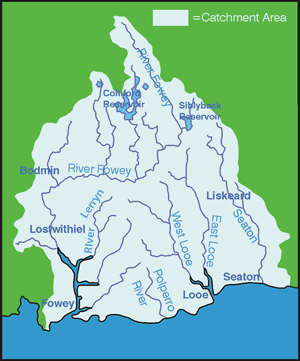 Together with the Seaton and the Fowey catchments, the East and West Looe catchment rises at approximately 300m and drains an area of south east Cornwall from the southern slopes of Bodmin Moor to the south coast. From the headwaters to the estuary, both East and West Looe rivers fall steeply at 13m/km and 10m/km respectively and are subject to rapid rises and falls in water levels after periods of rainfall.
The catchment is very rural in character, ranging from open moorland to rolling hills intersected by steep sided river valleys.
Historically, mining activity was widespread in the upper catchment which has left a legacy of abandoned mines and workings throughout the area.
The underlying geology within the Looe catchment is characterised by Devonian sedimentary rocks (slates, shales and thin limestones) with the bedrock forming one of the few groundwater aquifer reserves found in Cornwall.
In addition to supporting numerous drinking water supplies in the catchment, these groundwater supplies facilitate river baseflow during period of low rainfall. Due to the shallow water tables and low porosity of the geology, groundwater reserves are highly vulnerable to contamination from the escape of pollutants into the soil.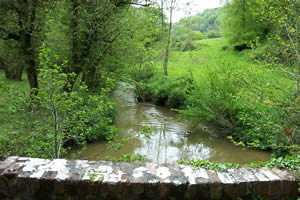 West Looe from Sowdens Bridge downstream
Bodmin Moor and the coast from Fowey to West Looe are Areas Of Outstanding Natural Beauty (AONB) whilst the Looe valley is a Special Area of Great
Landscape Value (SAGLV). A wide variety of wildlife can be found within the Looe catchment including otters, dippers, kingfishers, grey herons, peregrines, merlins, hen harriers, golden plover and the marsh fritillary.