water detectives exercise - how to use less water
Ref: E08b
You have been asked to keep a 'Water Diary' for a weekend in the previous exercise. Now you are going to be a water detective!
1. You will need a highlighter pen and your water diary. With your pen highlight all the times that you think you could have reduced the amount of water that you used.
| | | | |
| --- | --- | --- | --- |
| | | | |
| Shower | Bath | Cleaning teeth | Tap |
For example did you brush your teeth with the tap running (could you have turned the tap off whilst brushing) or could you shower instead of bath?. Both of these things would have saved a lot of water.
Reducing the amount of water used in our daily lives is important, to refresh your memory about why go to 'Death of a River' (E06)
• You will probably have quite a few things highlighted, if you are having trouble look at the Domestic Water Challenge sheet (E04a). Choose three of the times that you think you could reduce the amount of water used.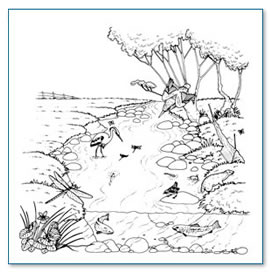 2. Now you are going to write a promise sheet about saving water. Open the promise sheet (E08b2 Promise Sheet), think about how YOU will change the way you use water.
• First write down the three ways you are going to reduce the water you use or become more water efficient, on the promise sheet. This is your promise to help prevent rivers drying up and dying (E06a Summary). This is a serious promise so make sure the things you write down are achievable.
• Now you can be creative, think about the creatures: aquatic invertebrates B09a; birds B09b; mammals B09c; and fish B09d you will be helping, and design your promise sheet with these creatures in mind. You might like to link some of these creatures in a foodweb (B06d).
• When you have finished designing and making your promise sheet take it home to show the family.
3. When you are sure that you can keep your promises and remember your promises sign your sheet, put your name and address on it and send it to the Westcountry Rivers Trust.