introduction to home water audit
Ref: E08d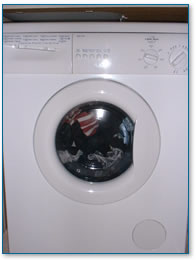 Washing machine
What are your family's water use habits during an average week?

How could water in your household be saved to prevent wastage?
To find out how much water your family uses in the average week have a go at completing the Water Audit sheet (E08d2). Some of the ways in which water is used in your household will depend on individuals' habits like 'leaving the tap running when brushing your teeth'. Whereas sometimes water is used for something to benefit all household members, for example watering the garden or doing the washing up.
Look at the figures for water use and find out how much your family uses at the moment and how much you could save.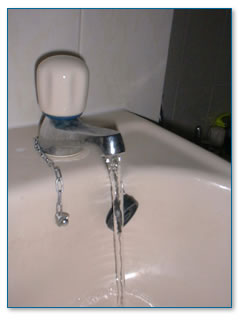 Tap running




When the Home Water Audit sheet has been completed you will have a grand total of the amount of water used in your household during a week. For more information on the costs of water use look at the South West Water's education website
http://www.dcs.exeter.ac.uk/water/then.htm
Reductions in water use in your home can be made by making some easy and simple changes. For example taking a shower instead of a bath can save water.
Look again at the Home Water Audit sheet and fill it in for your household in a way that minimises water use, for example flushing toilets using a hippo or low flush toilet. You can now see how much water your household could save in a week by doing simple things to save water.
Have a go at the next exercise creating 'Water Saving Reminders' (E08e) to encourage members of your household to save water.